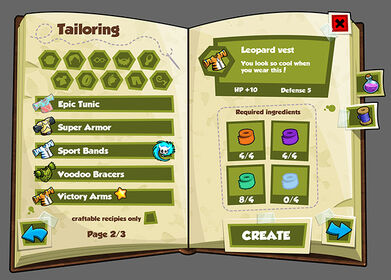 Alchemy is a branch of crafting. Alchemy focuses on the creation of potions, bombs, tonics, and elixirs.
Tonics can temporarly change the color of your monkey.
Elixirs mainly focus on enhancing attack strength, some can even help you level up faster!
Potions focus on raising defense and health.
Major Rejuvenation Potion
Super Rejuvenation Potion
Ultimate Rejuvenation Potion
Standard Invincibility Potion
Strong Invincibility Potion
Superior Invincibility Potion
Minor Water Breathing Potion
Minor Fire Resistance Potion
Minor Earth Resistance Potion
Minor Air Resistance Potion
Bombs are weapons that are quite powerful, but most can only be used once.
Ad blocker interference detected!
Wikia is a free-to-use site that makes money from advertising. We have a modified experience for viewers using ad blockers

Wikia is not accessible if you've made further modifications. Remove the custom ad blocker rule(s) and the page will load as expected.