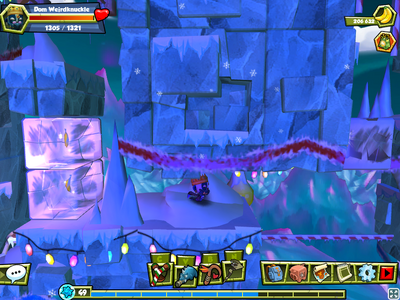 Every December,
Frostbeard
 invites you to have an epic fun time finding presents in his
Winter Wonder Maze
. You access it from a portal
in Clock Tower Square. Frostbeard has dispached many monkeys to help guide you through his maze.You can find many ice blocks as you make your way to the top, where there is a red treasure chest, a jack-in-the-box and a shop.
Maze Map
Edit
Here is a printable map/strategy guide on how to get through and get all the treasures in the wonder maze.
Many of the monkeys in the Wonder Maze have names that are a play on a Christmas or winter theme, such as Openslay and Nutmeg.
A friend will be a big help in getting all the goodies, and finding your way to the top.
Ad blocker interference detected!
Wikia is a free-to-use site that makes money from advertising. We have a modified experience for viewers using ad blockers

Wikia is not accessible if you've made further modifications. Remove the custom ad blocker rule(s) and the page will load as expected.