Jacko is the shopkeeper for all of the Halloween events. This includes the 2011, 2012, and 2013 versions.
"I have the most spOOKified gear, but you better buy fast because your time is running out! Soon this will all disappear..." -Jacko.
"Thank you and come again.. If you dare.." -Jacko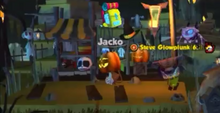 Jacko had many Halloween items to choose from. In the 2013 version however, most of them were member exclusive.
Jacko is a play on words for the term "Jack-o-Lantern"
He wore the Happy Pumpkin Head, but nothing else.