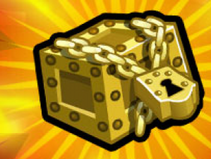 Members from the month of March 2012 get a special gift. A Happy-Go-Lucky Battle Box, themed on the popular March holiday called St. Patrick's Day. It includes the exclusive Happy-Go-Lucky Chops, Happy-Go-Lucky Brows, Happy-Go-Lucky Helmet, and the extra-special Lucky Club!
With Membership you get more out of Ook. Members get access to all locked trails, a weekly banana allowance, exclusive weapons, and can now fast travel and instantly revive! Get a Membership today and experience the benefits.
Ad blocker interference detected!
Wikia is a free-to-use site that makes money from advertising. We have a modified experience for viewers using ad blockers

Wikia is not accessible if you've made further modifications. Remove the custom ad blocker rule(s) and the page will load as expected.