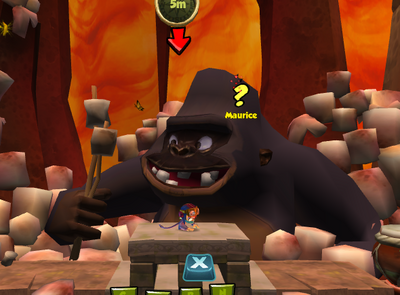 Maurice the Gorilla is an NPC who lives in The Volcano Lair. He gives you various quests, and as you can see in the picture, he really likes Marshmallows. In fact, he won't talk to you unless if you bring him a Marshmallow! Many monkeys are afraid of Maurice, like Urymo above Maurice's chasm, who tells you that you're really brave if you jump down there. It is strange, since Maurice is very kind-hearted and gentle to nice monkeys. He is also part of the gorilla tribe (as he states he misses his tribe). Notice of this "tribe" is unknown. 
He doesn't seem to notice that warming marshmallows is probably too much heat for it. Except he is a gorilla, so he can't be very bright.
The Gorilla Tribe he belongs to is probably founder of the Gorilla Chest Plate, Pound Gloves, and Mace.
It is possible that Maurice is related to Lawrence, the Snow Gorilla who resides in Frostbeard's Forest.
Ad blocker interference detected!
Wikia is a free-to-use site that makes money from advertising. We have a modified experience for viewers using ad blockers

Wikia is not accessible if you've made further modifications. Remove the custom ad blocker rule(s) and the page will load as expected.