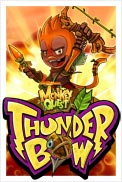 "When in doubt, blow it up."
-- Thunderbow
SPECIAL LAUNCH OFFER: Get Monkey Quest: Thunderbow at a reduced price for a limited time! You are Thunderbow! A Monkey on a mission of mayhem... Zombies, Scorpions, Mummies and Skeletons stand between you and ultimate victory, so take aim with your trusty Boom Bow and blast everything to smithereens on this hair-raising quest to dethrone the sinister cat ruler - Zotan. Hold on tight and experience destruction on an epic scale in Thunderbow!
Thunderbow is a one-of-a-kind arcade style game filled with over the top action and fully destructible environments. Earn achievements and compare high-scores with other players via Game Center. Enjoy astounding Retina display graphics, an epic soundtrack and fully animated enemies. Pull back your bow and blast your way through dozens of levels over 6 lands. Unlock new weapons and bonus Zombie levels.
Packed with awesome features:
Edit
Collect Explosive Weapons Upgrades
Solve Dozens of Challenging Levels in 4 Adventure-filled Lands
Unlock Bonus Zombie Levels and Enjoy a Crazy Rock Soundtrack.
Import your personalized monkey from MonkeyQuest.com
Unlock exclusive items to use in the MonkeyQuest.com online game
More levels, weapons, enemies and exclusive unlockable Monkey Quest gear coming soon.
Download the app now and unleash the power of Monkey Quest: Thunderbow!
So far the unlockable MMO items are:
Ad blocker interference detected!
Wikia is a free-to-use site that makes money from advertising. We have a modified experience for viewers using ad blockers

Wikia is not accessible if you've made further modifications. Remove the custom ad blocker rule(s) and the page will load as expected.