Welcome To Monkey Quest Wiki
Countdown to the
Closing of Monkey Quest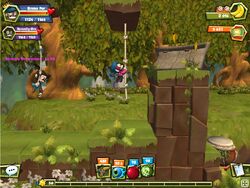 Featured Article
Soggy Creek is a Crossroads trail. It is located in the Crossroads Path.
Time to take a little dip in the refreshing waters of Soggy Creek! Bring your friends along, because there are even more hidden secrets requiring multiple monkeys. Who knows how deep some of these underwater passages go? Discover menacing Spinefish beneath the water's surface, and dry off quickly while avoiding the new and lethal Moss Orchid.
Wiki Activity
Forums
Poll
What is your favorite boss in Monkey Quest?
Take a look at all of our polls here!
Monkey Talk
This Wiki has been adopted by Abce2 and Bill Cipher1500! Expect many improvements in the future!
Cheers, Abce2|Talk "Other" 19:23, June 26, 2014 (UTC)
We need your help! Monkey Quest is closing on September 26, 2014 and we need to get as much info as possible. Check our forums to learn more.
Thanks, Bill Cipher1500- 16:26, August 2, 2014