Welcome To Monkey Quest Wiki
Countdown to the
Closing of Monkey Quest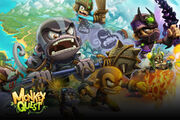 Featured Article
Monkey Quest is an online MMO game developed by Nickelodeon Virtual Worlds Group, and created in partnership of Behaviour Interactive. The closed beta started on December 14, 2010. The game was launched for everyone to play on March 17, 2011. Read more...
Wiki Activity
Poll
What is your favorite tribe of Monkey Quest?
Poll
Are you sad that Monkey Quest is closing?
Forums
Forum Activity
Monkey Talk
This Wiki has been adopted by Abce2 and Bill Cipher1500! Expect many improvements in the future!
Cheers, Abce2|Talk "Other" 19:23, June 26, 2014 (UTC)
We need your help! Monkey Quest is closing on September 26, 2014 and we need to get as much info as possible. Check our forums to learn more.
Thanks, Bill Cipher1500- 16:26, August 2, 2014
Ad blocker interference detected!
Wikia is a free-to-use site that makes money from advertising. We have a modified experience for viewers using ad blockers

Wikia is not accessible if you've made further modifications. Remove the custom ad blocker rule(s) and the page will load as expected.