Welcome To Monkey Quest Wiki
Countdown to the
Closing of Monkey Quest
Featured Article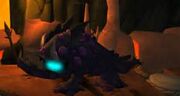 The Shadow Cragcrawler is a mini-boss in Monkey Quest. These big beasts can be found in various trails of Ook. They are feared for their massize size and vicious charges. They may seem slow at first sight, but if you get their attention, they charge at you with threatening speed! This monster, along with most shadow-enhanced creatures, yield rewards when defeated, as they are quite difficult to defeat. Read more...
Wiki Activity
Forums
Ad blocker interference detected!
Wikia is a free-to-use site that makes money from advertising. We have a modified experience for viewers using ad blockers

Wikia is not accessible if you've made further modifications. Remove the custom ad blocker rule(s) and the page will load as expected.