Welcome To Monkey Quest Wiki
Countdown to the
Closing of Monkey Quest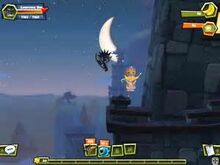 Featured Article
Idols are a special collectible in Monkey Quest. There are 10 idols in every PvE trail in Monkey Quest (with a few exceptions, such as Hero's Secret Shrine.) Some are usually tucked away in hidden spots, some are also hidden behind puzzles and switches that you must get past in order to obtain the idol. Some idols also require another monkey or pet to help you in order to get the idol.
Wiki Activity
Forums
Poll
What is your favorite weapon on this list?
Take a look at all of our polls here!
Monkey Talk
This Wiki has been adopted by Abce2 and Bill Cipher1500! Expect many improvements in the future!
Cheers, Abce2|Talk "Other" 19:23, June 26, 2014 (UTC)
We need your help! Monkey Quest is closing on September 26, 2014 and we need to get as much info as possible. Check our forums to learn more.
Thanks, Bill Cipher1500- 16:26, August 2, 2014