Home
Talk

2
502pages on
this wiki
Want to adopt this wiki? Send a request at here, but you MUST BE AN ACTIVE MEMBER ON THE WIKI AND CONTRIBUTED VERY MUCH!!!

Please go to this link to view our list of rules.

Anybody with an account or not, can sign our guest book here. Guest Book!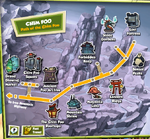 Chim Foo is one of the 5 tribes of Ook founded by Mist. It is in the eastern region of Ook, and is home to many Monkey ninjas and samurais.

To see the featured poll, click this link. [1] Follow the following link [[2]] to see more epic polls! The poll on this page will change once a month. Also, suggest a poll at that link, for we are welcoming new poll ideas. You do not have to have an account on wikia to suggest a poll.
How often do you play Monkey Quest in an average week?
Thanks for voting! Results will be revealed soon!

Throughout the year, we have received many questions asking how to get the shopping list quest. To prevent constant answering, I will list the answer. You get it from Memee in The Underbelly. If she doesn't have the quest for you yet, try coming back when you are a higher level or do more quests for Mayor Bumbee. If you have any more questions, leave a question on my talk page at http://monkeyquest.wikia.com/wiki/User_talk:Swiftykitty2K . Thanks for your co-operation. Swiftykitty2K ;-D 00:57, December 11, 2011 (UTC)

Click here to play Monkey Quest by Nickelodeon


Create blog post
hay this is monkey news your reading monkey news. monkey quest ur medals and get all of them  and the huge spider never stops growing.get to level well any level

Read more >

This wiki is stale. I love it but we need more information. Start with Rachnock and the parties.

Read more >

 these are the tribes of Ook 

First is:Ice Raiders

Second is:Mek Tek (To be released)

Third is:Sea Dragons

Fourth is:Chim Foo

Fifth is:Ooutu Mystics

Read more >
See more >

We are currently housing 502 articles, and 1,080 files. We would appreciate your help expanding and adding articles to the wiki!
If you're new to wikia, please use the above links to get started.
If you already have editing experience, and you have an article relating to the game to contribute, use the box below to create it:
Thank you!