Home
Talk

3
567pages on
this wiki
Welcome To Monkey Quest Wiki!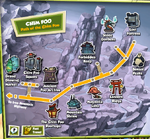 Chim Foo is one of the 5 tribes of Ook founded by Mist. It is in the eastern region of Ook, and is home to many Monkey ninjas and samurais.

To see the featured poll, click this link. [1] Follow the following link [[2]] to see more epic polls! The poll on this page will change once a month. Also, suggest a poll at that link, for we are welcoming new poll ideas. You do not have to have an account on wikia to suggest a poll.
How often do you play Monkey Quest in an average week?
Thanks for voting! Results will be revealed soon!

This Wiki has been adopted by Abce2 and Bill Cipher1500! Expect many improvements in the future!

Click here to play Monkey Quest by Nickelodeon


Create blog post
I'm back and I'm gonna try and edit this wiki more often. I might only be able to edit on the weekends. I already got started and I just finished making major edits on the Ook page. I can't wait to m…

Read more >

This is going to be a blog listing the things to be done, as well as the questions I have about Monkey Quest.

Feel free to comment! :D

To-do:

Make an item Infobox
Fix up item pages
Find a good format for …

Read more >

This wiki really needs more info on Monkey Quest. I am doing everything I can to add more info to this wiki. I'm adding more info the the tribes. I am also adding questline pages and quest pages. And…

Read more >
See more >

We are currently housing 567 articles, and 1,146 files. We would appreciate your help expanding and adding articles to the wiki!
If you're new to Wikia, please use the above links to get started.
If you already have editing experience, and you have an article relating to the game to contribute, use the box below to create it:
Thank you!