Nick Cash
(
also known as NC, previously known as NeoCash
) is one of the currencies available in
Monkey Quest
. The other currency is
Bananas
. Nick Cash allows the user to purchase special items that are not available for Bananas. NC is spent at the NC Mall. Real world money is required to get Nick Cash. Each Nick Cash purchase comes with a free virtual item, which you can redeem online. In the US, Gamestop sells the exclusive Monkey Quest Game Card.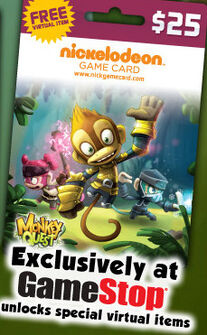 There is a free way to get Nickcash. Log into Neopets with your Nickelodeon Virtual Worlds Account (the username and password you use for Monkey Quest) and create a Neopet. Go to the top where it says games and select games room. Go to Luck and Chance. Click more. One of the games should be called Qasalan Expel. You can play once every eight hours. If you win Nickcash, log out and go to Monkey Quest. 
Denominations and Prices
Edit
1 USD/CAD is equal to 100NC. NCs are purchasable through a PayPal account, or at selected stores nationwide. To locate a retailer that sells NC near you, click
here.
NCs are available in denominations of USD $10 and $25.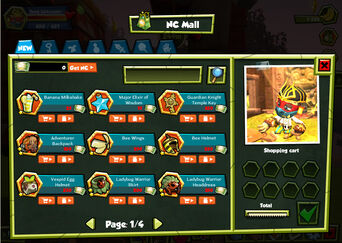 Ad blocker interference detected!
Wikia is a free-to-use site that makes money from advertising. We have a modified experience for viewers using ad blockers

Wikia is not accessible if you've made further modifications. Remove the custom ad blocker rule(s) and the page will load as expected.