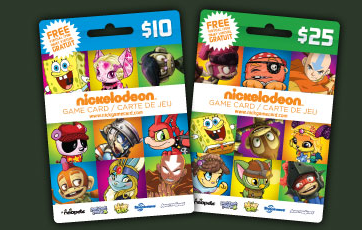 Nickelodeon Game Cards are a way to acquire Nick Cash (Also known as NC) or memberships. They cost real world money. The ratio of US/CAN dollars to NC is $1 : 100NC.

When you redeem a Nick Game Card you will either receive a free Bomb Booster Pack or a Health Booster Pack! The Bomb Booster Pack contains 15 bombs (5 Boom Bombs, 5 Pepper Poppers, and 5 Major Boom Bombs)The Health Booster pack contains 9 health items (3 Major Rejuvenation Potions, 3 Key Lime Pies, and 3 Super Rejuvenation Potions)This excludes the exclusive Monkey Quest Card from GameStop. When you redeem any Monkey Quest Game Card from GameStop you will receive the exclusive GameStop Cobra Crossbow instead of a Booster Pack.
Ad blocker interference detected!
Wikia is a free-to-use site that makes money from advertising. We have a modified experience for viewers using ad blockers

Wikia is not accessible if you've made further modifications. Remove the custom ad blocker rule(s) and the page will load as expected.