Overlook Cliff is a trail in the Sea Dragons region within the World Of Ook.
Overlook Cliff is touted as one of the most scenic views of the ocean, but it isn't just monkeys who enjoy this natural wonder. Long before the Monkey King, Pincers came to Overlook Cliff to mate, and they swarm about the area to this day. Although their presence keeps most sightseers away, they also make excellent protection for Sea Dragons looking to hide their booty from snooping strangers.
Trail Info
Edit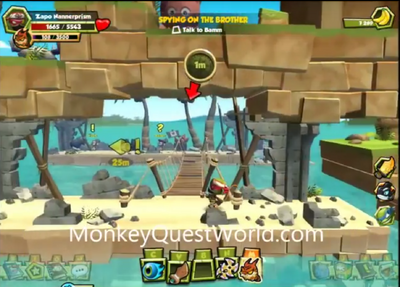 Trail Access Point: Razor Bay
Trail Recommended Levels: 10-15
Idols: 10
Cragcrawlers
Bathogs
Pincers
Trawlers
Magma Bathogs
Spawners
Dealing the Healing -  Hardtack needs you to find 4 Pots of Cave Glue in Overlook Cliff. Then, take them to Ploch in Cauldron Keep. Reward: 130 Bananas/1950 XP
A Frightened Monkey - Anklepuff needs you to defeat the Arena at Overlook Cliff. Reward: 120 Bananas/1800 XP
Spying on the Brother -  Captain Blacktail wants you to talk to Bamm in Overlook Cliff. Reward: 130 Bananas/1950 XP
The Three Markings -  Scuttlebutt needs you to study 3 Markings in Overlook Cliff. Reward: 130 Bananas/1950 XP
Stern's Business -  First Mate Stern needs you to defeat 5 Pincers in Overlook Cliff. Reward: 160 Bananas/2400 XP
Bubbles and Ebullience -  First Mate Stern needs you to find 3 Blue Bubbles in Overlook Cliff. Reward: 170 Bananas/2550 XP & Water Breathing Potion
The Clue -  Fizzle needs you to find a Clue in Overlook Cliff. Reward: 140 Bananas/2100 XP & Trail Mix
The Second Idol - Fizzle wants you to find the Small Wooden Idol in Overlook Cliff. Reward: 150 Bananas/2250 XP & Treasure Hunter Tricorn Pattern
Tips & Hints
Edit
Anchors Away! -  Don't rush through the trail blindly. With all the Sea Dragons around, there's no shortage of dangerous traps and hazards designed to stop treasure hunters in their tracks. Watch out for the crushing blows of the anchors that drop from the ceiling. There are no telltale warnings, so take the time to scope them out in narrow passages.
Ad blocker interference detected!
Wikia is a free-to-use site that makes money from advertising. We have a modified experience for viewers using ad blockers

Wikia is not accessible if you've made further modifications. Remove the custom ad blocker rule(s) and the page will load as expected.