This was once a featured article!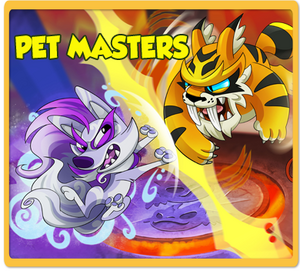 Pet Masters is an epic duel with pets.
You can find Pet Masters in the Games Icon or Click on a Player then click Pet Masters. You will then be sent to an Arena with the Player. Then you will choose three of your Pets to fight. Don't worry if you have only one Pet. You can choose other Pets in the game. There will be Pandrill, Skyclaw, Croaker. But you cannot keep them. There are modes like Easy Mode, Medium Mode, and Hard Mode. There is an also PvP where you can play against different players' pets.
If you win a game of Pet Masters, you will earn rewards, like XP, Pet XP, and Bananas. If you lose, you will still earn rewards, but not as much. If you forfeit, you don't earn anything.
How To Play
Edit
Click the games icon (the flag icon close to the bottom-right corner.)
Choose Pet Masters.
Choose the mode you want to play. There is Easy Mode for the beginners, Medium Mode for the ones who want to be a little more challenged, and Hard Mode for the people who really want to be challenged. If you want to challenge another player, choose the PVP Mode. Once you choose a mode, you will be taken to the Pet Masters arena.
Choose your pets. If you don't have any pets that you don't want to use, you will be offered pets to use only in Pet Masters. They only last one game, but you can choose them again in your next game. You cannot keep the offered pets.
Choose an attack or a helpful move for your pet to do. Elite attacks might cause your pet to rest for a short while. Try not to let your pets' health fall to zero or else they will be knocked out. When it is their turn, you will have to wait. They will try and take your pets down.
Try to win!
Pet Masters was one of the last additions to Monkey Quest before its shutdown was announced.