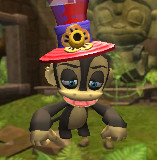 The Prankster's Hat is Bound. You wear it on your Hair. You must be level 1 to wear this, so any monkey can wear it. It's rarity is Uncommon. You get it from Terod for finding his Gushing Flower, Endless Ribbon, and Ha-Ha Scroll. The Gushing Flower resembles Gushers, the Endless Ribbon resembles Fruit Roll-Ups, and the Ha-Ha Scroll resembles Fruit By The Foot. You find them in Blimp Ridge for October 2011 only. The Pranskters Hat looks like all three candies put together. Brought to you by Gushers, Fruit Roll-Ups, and Fruit By The Foot (Nick is advertising.) This hat is part of the Great Snacks Giveaway. Below is a list of attributes they give you.
| | |
| --- | --- |
| | +114 |
Ad blocker interference detected!
Wikia is a free-to-use site that makes money from advertising. We have a modified experience for viewers using ad blockers

Wikia is not accessible if you've made further modifications. Remove the custom ad blocker rule(s) and the page will load as expected.