A Purple Side Mohawk is a mohawk you can equip on your monkey. It is worn on your head. Their rating is 2 stars. You have to be level 41 or heigher to equip them. They can not be traded. They come from the warrior games, and are for members only.
They give you 816 extra protection. It is mostly purple.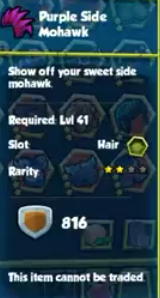 Ad blocker interference detected!
Wikia is a free-to-use site that makes money from advertising. We have a modified experience for viewers using ad blockers

Wikia is not accessible if you've made further modifications. Remove the custom ad blocker rule(s) and the page will load as expected.