This page contains information that been retired in a recent update. The contents of this page may no longer be available to new users. However, they may still be available to users who started to play earlier when this quest was available.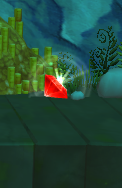 Red Gems
are quest items. You find them in
Soggy Creek
and you need them for the quest
The Red Gems
given to you by
Hardtack
in
Clock Tower Square
.
Ad blocker interference detected!
Wikia is a free-to-use site that makes money from advertising. We have a modified experience for viewers using ad blockers

Wikia is not accessible if you've made further modifications. Remove the custom ad blocker rule(s) and the page will load as expected.