Previous Questline
Edit
Reporting In 
is the final main quest/questline of
Crossroads
. It ends the Racknok story arc. This quest is in its own questline, meaning that it counts as both a quest and a questline. All you have to do is talk to your tribe diplomat.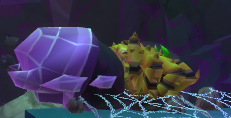 Mayor Bumbee sends you to deliver the good news to your tribe captain, so they can get you started on entering your tribe.
Next Questlines
Edit
Ad blocker interference detected!
Wikia is a free-to-use site that makes money from advertising. We have a modified experience for viewers using ad blockers

Wikia is not accessible if you've made further modifications. Remove the custom ad blocker rule(s) and the page will load as expected.