Rilan was the first monkey resident of Noogo Village. She was removed sometime during 2011, probably near October. She used to be the leader of the village, being almost exactly the same as the current leader. She had almost the exact same quests as him, until Noogo Village was changed in the November 2013 update. She is one of the least known characters in the game, since she is so minor.
She wore a wooden bird hat with colorful feathers, which could be bought with NC in the game. She also had pink fur.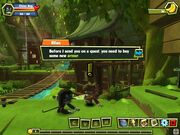 Ad blocker interference detected!
Wikia is a free-to-use site that makes money from advertising. We have a modified experience for viewers using ad blockers

Wikia is not accessible if you've made further modifications. Remove the custom ad blocker rule(s) and the page will load as expected.