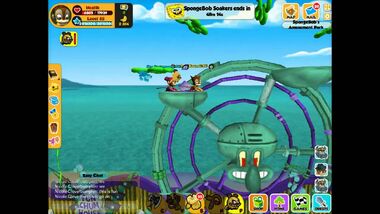 SpongeBob's Amusement Park
is a limited edition area in
Monkey Quest
.
You can find SpongeBob Soakers here. You will also see lots of hoops here. Barry Koda is found here too, and he has quests for you! There are vendors here that sell SpongeBob-themed items. There's even a ferris wheel! If you're brave enough, then you can even go inside the Fun Chum House and take on Plankton!
Residents
Edit
Ad blocker interference detected!
Wikia is a free-to-use site that makes money from advertising. We have a modified experience for viewers using ad blockers

Wikia is not accessible if you've made further modifications. Remove the custom ad blocker rule(s) and the page will load as expected.