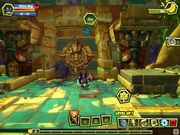 The Forgotten Temple is one of the first places you enter. It leads to Guardians Keep and Knights Gate.
Trivia
No one knows how old the Forgotten Temple is or who built it.
This area is a level in the Tutorial.
On June 3, 2011, it received a makeover for the The Return of the Guardian Knights special event. That makeover made it a path where you see other monkeys, and large crystals were added there that block your path back to Noogo Village.