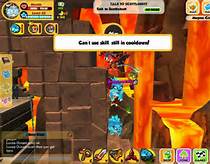 Previous Quest:
Edit
The Log Books is a quest that is given by Mayor Bumbee. It is the last quest of Mayor Bumbee's Questline and is one of two quests that take place in the Magma Citadel, the other being Who's the Boss.
Now that you have the stone to the Magma Citadel, Mayor Bumbee wants you to brave the ancient citadel and locate three Tribal Log Books and bring them back to her. Make sure to bring some friends!
Objectives:
Edit
Find the first log book
Find the second log book
Find the third log book
Talk to Mayor Bumbee
Rewards:
Edit
Next Quest:
Edit
Ad blocker interference detected!
Wikia is a free-to-use site that makes money from advertising. We have a modified experience for viewers using ad blockers

Wikia is not accessible if you've made further modifications. Remove the custom ad blocker rule(s) and the page will load as expected.